Cabinet Finishing Techniques
Give your cabinet character
Finishing techniques are a great way to truly give your cabinets a unique look. Whether it's creating those quaint distressed imperfections that give your cabinets a sense of identity, or enhancing the finishes and colors you've hand-chosen. Our finishing options optimize your style.
Heirlooming
Add character and depth to select finishes/colors with over-sanding on edges and profiles for a naturally worn-to-the-material appearance that gives an old world charm. The glazing will enhance areas of material exposed by over-sanding to take on the darker characteristics of the applied glaze for a finish/color that is warm and perfectly aged.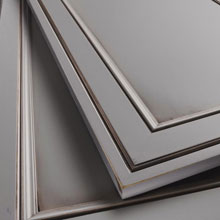 Distressing
Boutique offers a light distressing technique known as Timeworn and a more aggressive distressing technique known as Extra Timeworn. These techniques create a finish/color with unique and appealing imperfections varying from light signs of wear similar to those found on antiques to dents, worm holes, and chisel marks for a more authentically worn look.