Bath Organization
Bathroom Storage Cabinets
Today's bath is more than just a place to hang a towel. It's a luxurious spa retreat, a great escape, and a staging area for a day at the office or a night on the town – yet without organization, it's utter clutter and chaos. Enter MasterBrand's bathroom storage cabinets, all intelligently designed to keep your life under control. Here's a sampling of bathroom remodeling ideas that you can accomplish with our cabinetry.
Vanity Linen Closet With Removable Hamper
High capacity goes high class with our Linen Closet with Removable Hamper, a bathroom storage cabinet providing ample space for linens and toiletries. Door-mounted racks create organization for bottles and containers, while separate roll-out hampers let you store dirty linens out of sight until it's time to remove them for laundering.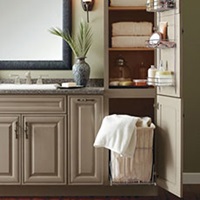 Vanity Sink Base SuperCabinet
Store everything under the sun — and under the sink —- with a bathroom vanity that keeps you blissfully organized. The Vanity Sink Base SuperCabinet features a movable radius shelf and door racks, giving you easy access to skin lotion, mousse, soaps, paper goods and more, without knocking over anything. Use it as a bathroom storage cabinet for towels, too.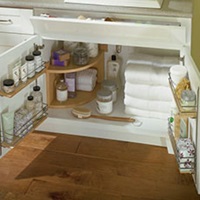 Vanity U-Shaped Pullout Cabinet
Rethink bathroom vanities with the sliding chrome-roll-out racks of our Vanity U-Shaped Pullout Cabinet that keep your bathroom necessities front-and-center, where you can easily see and grab them. The easy sliding mechanism means more relaxing and less peering, reaching and digging or what you need.