Choosing Cabinet Door Hardware
Your cabinets' finishing touch
Hardware enhances the style of your space. With so many choices, it's important to consider ease and comfort for members of your family, the lifetime of use and potential bumps and scrapes when cabinet doors are open. While any hardware brand can be used, Schrock offers cabinet door and drawer hardware choices, providing the convenience of one-stop shopping and delivery.
Visit our hardware gallery to view options.
Knobs or Pulls?
Maybe a combination of both. When making these selections, consider the profile of the door and drawer fronts. For example, while you may love a bin-style pull, it may not function well on a 5-piece drawer front, which is better accented by a straight-bar type of pull.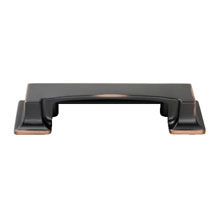 What About Positioning?
For wall cabinets with a raised center panel style door, set the knob or the bottom of the pull (top of pull on a base unit), directly across from the flat of the center panel

For a flat center panel door, 2" to 2-1/2" is a good starting point — hold up the hardware piece and let your eye make the final choice

With a mitered door, never position the hardware in the lower corner where the mitered joints meet

For drawers, if the hardware is of average size—3" to 3-1/2" wide— a good rule of thumb is to position one piece of hardware on drawers that are less than 24" wide, and two pieces per drawer front on those that are over 24" wide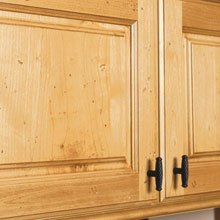 Finishing Touches
When it comes to finishes/colors, let the rest of the components in the home be your guide. If you are selecting an oil-rubbed bronze artisan faucet, select the matching hardware. Interested in mixing finishes/colors? In today's home, anything goes. Mixing brass with black iron might be over the top, but pairing brushed nickel with polished chrome can offer a dynamic and attractive contrast.