Schrock knows that how your cabinet functions is just as important as how it looks. You can rest assured that we've done our homework when it comes to the products we deliver to you.
Entra Construction
We've improved structural integrity and enhanced upgrades, all while lowering the overall price to make your project even more attainable, leaving room in your budget for extras.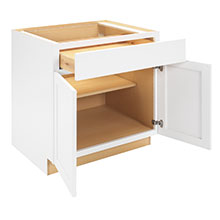 Quick-Release™ Hinges
Announcing the Schrock Quick-Release™ fully concealed, 6-way adjustable cup hinge featuring Smart Stop™ self-closing innovation and deactivation option. This new hinge features a push tab which allows quick and easy tool-less removal of doors without removing the screw that attaches it to the face frame.
View Product Video